Alicja Kozanecka , Izabela Maciejewska, Maja Wolna
shortlisted for the 6th Passion for Freedom Art Festival in London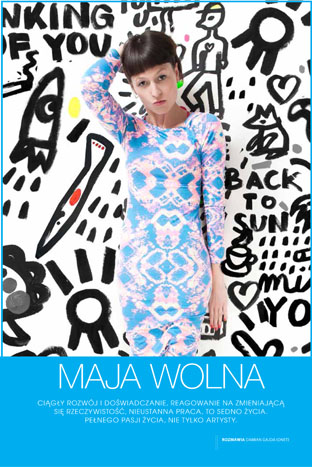 Maja Wolna
Festival dates:  5-15 November 2014
Private View: 8 November 2014
Embassy Tea Gallery
195-205 Union St,
London SE1 0PB
The 6th Passion for Freedom Art Festival in London is a rare collection of works
of "courageous artists" who have answered three pivotal questions:
•    What is freedom?
•    How easy is it to lose it?
•    How difficult is it to get it back?
This year at the festival there will be collection of 15 films, 10 books, 10
journalists and 51 artworks from all over the world: Peru, Venezuela, Iran,
Israel, Syria, Taiwan, China, South Korea, Ukraine, Poland, Germany, Belgium,
The Netherlands, France, Spain, Italy, Greece, United Kingdom, USA & Australia.
The youngest artist is 18 years old, the oldest – 64.
Some of the artists use pseudonyms because of threats imposed on them, some of
them can't come because they are imprisoned, cannot leave their country or
cannot give interviews.
The founding body comprises of a group of friends of different nationalities,
predominantly Polish, Hungarian, Russian and Danish who for the last 6 years
have been saying, "We are checking the status of freedom of speech and artistic
expression in Europe".  They have clear message – promotion and protection of
human rights using the means of aesthetic expression.  The festival itself,
which is in direct contrast with the political correctness so prevalent within
our society, is growing in recognition and prestige.
The PFF Festival is supported by world-famous artists such as Ai Weiwei,
Mehdi-Georges Lahlou and Iranian director Jafar Panahi.
•    Ai Weiwei is a Chinese artist and performer who posted a blog report
exposing the corruption within the Chinese Communist Party and challenging the
government over the poor construction of schools in Sichuan, which led to death
of more than 5 thousands pupils. In 2011 he was kept imprisoned for 81 days
without any official charges and beaten by the police officers. Even today he
can't travel or give interviews as a result of alleged business fraud.
•    29 years old Mehdi-Georges Lahlou of French and Moroccan origin in one of
his artworks presents fragments of the Quran and the Bible depicted on a naked
body.  In many Muslim countries and in Morocco itself his art hailed a storm of
protests and death threats, even though his works have not been shown there.
•    Jafar Panahi, the Iranian director, has been imprisoned more than once for
promoting women's freedom and for his anti-Iranian activities and convicted for
the films he made. Since the trial he can only make his movies in his own
apartment and he solely can be his own protagonist. Everyone who has worked with
him has been harassed and now has restrictions on leaving Iran.
This year 3 general awards as well as Freedom Film Award will be given for art
and film productions. Also during the Private View the audience will have a
chance to choose their favourite piece of art and give People's Choice Freedom
Award.
The jury panel comprises of:
Gary Hill – one of the most prominent American artists in video art,
Sarah Maple – a provocative young British artist,
Deeyah Khan – Iranian pop star and activist, knows by the media as the "Muslim
Madonna"
Lee Weinberg – curator, art researcher and lecturer at Goldsmith University
For the first time this year along with films, sculpture, painting, photography
and installations there will be 10 books and 10 journalists recognised (3
British, 2 Russian, 2 Canadian, 1 Danish, 1 Polish and 1 Indian) during the
Festival.
One of invited journalist:
In 2003 an Islamist disguised as a postman tried to kill Lars Hedegaard in his
home. He did not succeed and the assailant fled. Danish Prime Minister condemned
the attack saying that the attempt to assassinate a journalist was highly
serious as its motive was aimed not only at Hedegaard, but also at damaging his
work defending freedom of speech.
Special Guest Artist:
Miriam Elia – is a visual artist and Sony nominated surreal comedy writer. After
graduating from the Royal College of Art her diverse work has
included illustrated books such as 'We go to the gallery' and 'The Diary of
Edward the Hamster,' as well as prints, drawings, short films, radio comedy and
animations.
Daniel Arzola – coming out as gay in Turmero, Venezuela, was a nightmare. Daniel
graduation project consist series of posters sending out strong messages against
homophobic bullying. With his country hit by deep political, economic and social
crisis, Daniel is considering moving to Argentina. His life is in danger in
Venezuela. Being a human rights activist in Venezuela equals being a public
enemy.
Additional Info:
Twitter/ @P4Freedom
Facebook/www.facebook.com/passionforfreedom
passionforfreedom.art