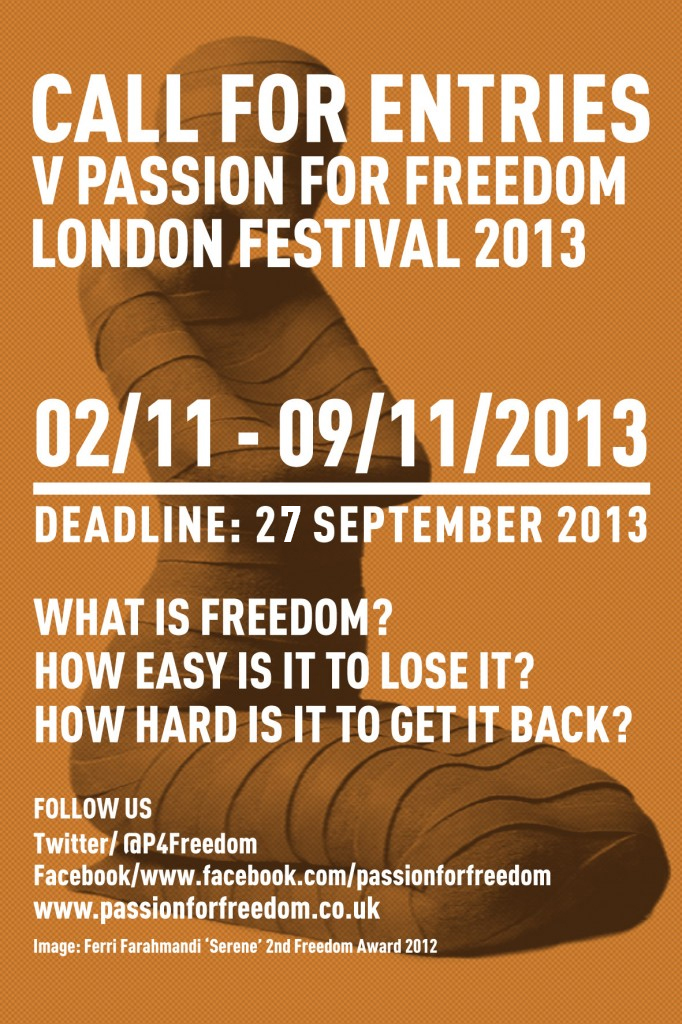 NEW EXTENDED DEADLINE – 27 SEPTEMBER 2013
Due to many artists' requests, Passion for Freedom decided to extend the submission deadline to Friday 27th September.
We have been delighted with the number and quality of entries so far and want to ensure that as many people as possible have the time to deliver their works from overseas and various places.
Shortlisted artists will have an opportunity to exhibit works at the UNIT24 Gallery next to the Tate Modern together with special guest artists: Mehdi-Georges Lahlou and Firoozeh Bazrafkan. The works will be judged by the international Selection Panel including Anda Rottenberg, Sarah Maple, Deeyah and Nick Cohen.
Art Competition 2013 – PASSION FOR FREEDOM
Information to Artist and Terms and Conditions 2013Passion for Freedom Festival will comprise two exhibitions taking place from 02.11-09.11.2013 at the UNIT24 Gallery, 20 Great Guildford Street, London SE1 0FD. The Festival will present selected works from artists, film makers and writers whose work speaks for freedom and artists selected from an open submission.
Eligibility
Passion for Freedom invites submissions from visual artists involved in practice of painting, sculpture, drawing, print, photography, mixed media, installation and video. Performance artists are requested to contact the Curator directly before applying.
There is a size limitation of 1.5 metres width for two-dimensional work, 1.5 metres width and depth and 2.5 metre height for three-dimensional work, 15 minutes for video.
The works must have been made since 2011.
Entry Procedure
 A non-refundable administration fee of £15.00 is charged and must be paid at the time of submission.
PayPal (available on Passion for Freedom website)
Artists may submit up an image of one work (Works which form a series will be treated as one. When added it must not exceed the size requirements given by the organizers)
Video artists may submit one work
Images should be submitted in JPEG format, min. size 1MB
Video should be written as a data file to DVD, CD alternatively there should be a link to view the work online e.g. VIMEO, etc.
No works will be accepted after the submission deadline.
The submission form should be completed in Word and then printed and signed. If the artist wishes to submit the form by e-mail it should be scanned with signature.
The completed form could be send by post or send by e-mail to: submissions@passionforfreedom.art
Alternatively you can send it to pff.submissions@gmail.com

CD/DVD/mini DV should be sent to BM BOX 5238, LONDON, WC1N 3XX
Submissions are non-returnable. This includes CDs, DVDs.
Submission Timetable
Extended deadline for submission
Friday 27th September by 5pm
Notification of the Selection Panel's decision by Wednesday 2nd October 2013
Delivery and Collection of selected work
 Artwork to be delivered to The UNIT24 Gallery
30thOctober 2013 2.00pm – 6.00pm
Artwork to be collected from The UNIT24 Gallery Saturday 9th November 1.00pm – 4.00pm
Any applicant who has not received notification by 2nd October 2013 should e-mail
submissions@passionforfreedom.art / pff.submissions@gmail.com
Work not collected by the stated dates will be disposed of at the discretion of Passion for Freedom Team.
Exhibition Details
Passion for Freedom
Private View
Saturday 2 November 2013
Exhibition 2-9 November 2013
Exhibition open
Monday – Wednesday: 8am-6pm
Thursday – Friday: 8am-6:30pm
Saturday:10am- 3pm
Sunday: 11am – 6pm
Late Opening:
Tuesday – till 9pm
Friday – till 9pm
Exhibition venue
UNIT24 Gallery
20 Great Guildford Street,
London SE1 0FD
Transport
Underground stations – Southwark; locally paid car park available
All works will be submitted to a Selection Panel and applicants will be notified of its decision. Successful applicants will be informed by e-mail. The decision of the Panel is final and no correspondence will be entered into. Prizes will be awarded at the discretion of the Panel.
Passion for Freedom reserves the right to make changes to the competition as may be necessary.
Works will be offered for sale. Passion for Freedom charges a commission of 30% of the sale price. This must be calculated within the price.
Passion for Freedom reserves the right to reproduce exhibitors' images for publicity purposes and to copy any visual material submitted.
Artists are responsible for insuring their own work. All works accepted by Passion for Freedom Team are entirely at the artists' risk and the Team will not accept or be under any liability for loss or damage etc., although every care will be taken of work submitted.
Artists are responsible for the delivery and collection of their work and will be expected to remove their packaging (no storage available). Works will not be wrapped for collection.
All means to present the artworks must be provided by the artist. Artists who has not secured hanging system for their work will be charged £5.
Limited number of monitors, DVD players and plinths may be provided.
How to register
1. Read Terms & Conditions. Print, complete and sign the Submission Form
2. E-mail Submission Form to: submissions@passionforfreedom.art or pff.submissions@gmail.com
3. Pay the entry fee:
Through PayPal using the button below
If you have any questions regarding payments please send an e-mail to the following address: finance@passionforfreedom.art