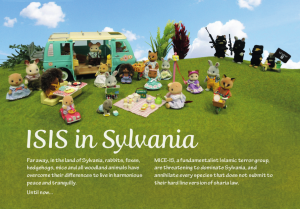 "Far away, i
n the land of Sylvania, rabbits, foxes, hedgehogs, 
mice and all woodland animal
s
 have overcome their 
differences to live in harmonious peace and tranquilly.

MICE-IS, a fundamentalist Islamic terror group, are 
threatening to dominate Sylvania, and annihilate every 
species that does not submit to their hard line version of 
It has come to my attention that after my work was removed from the exhibition,
some reports in the press failed to distinguish between the Independent
festival organisers ('Passion for freedom'), the Mall gallery and the metropolitan police.
The team behind 'Passion for freedom' courageously tried to help display my work
throughout the censorship process. They even printed subversive postcards of the work,
and distributed them to guests at the gala party.
All moves towards censorship and demands for 'security' money have been
imposed on me by the Mall Gallery, and the Police.
Mimsy, 2015