Be part of the festival together with Guest Artists..
Firoozeh Bazrafkan
will celebreate Passion for Freedom 5th Anniversary this year.
Firoozeh Bazrafkan ‐ an Iranian artist noted for making provocative
statements celebrates the Islamic Revolution in Iran in her own way.
After her performance she was charged with "racism" for criticizing
Islam in Denmark! The court found her eventually not guilty. The case
however will not compel Firoozeh to keep her opinions to herself in future.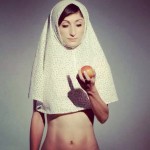 Please find detailed information, Submission Form, Terms and Conditions on our website.