Interview with Agnieszka Kołek,
the Polish woman of the Year and the curator of the Passion for Freedom festival
My first question is, why do you actually want to do things, which politicians are afraid to even mention?
Politicians are afraid to speak about it, they find it uneasy to discuss difficult topics, as addressing such issues might deprive them of potential votes and alienate them in political circles. For me this is easy: I love art and artists. As Ai Weiwei put it, artists are "soul engineers" which is the reason why regimes and demagogues of great utopian ideologies are so much afraid of them. Artists themselves in turn need support because they carry a great burden of responsibility, furthermore, they might be punished for their art even with the death sentence – be it by the government or by a hand of an extremist just as in case of Theo van Gogh's murder in Holland.
But why? The topic is so vast, and you have your own problems, ambitions, you are a renowned artist, I even found out that the Polish prime minister Marcinkiewicz purchased one of your paintings?
When I was four years old I watched tanks passing by my tower block, I saw people fighting against military riot police ZOMO, friend's wife running from one window to the other and back, nervously smoking cigarettes, worrying about her husband on strike in the Wujek mine. Friend's father was killed during the pacification of the mine. I did not understand politics, but I could feel that freedom is the most important value – and the most difficult to reclaim once it has been lost. Lack of freedom can facilitate the vilest human qualities, and destroy the best among us. Freedom needs to be both gained and nourished. Bearing future generations in mind, each one of us is responsible for not being deprived of our freedom right now.
Do you earn a lot as a London art exhibition curator?
Extremely (laughs). Everyone who works in this project does it for free. We get some funding from friends and their friends. We ourselves sponsor the gallery, transport or jurors' flights. It is an expensive, very expensive festival and without friends' and their friends' support it could not have happened. It works because people feel that freedom is important, and they are idealistic enough to do what the government is supposed to be doing. We organise the festival ourselves, as citizens. Beautiful, isn't it? We have members from all over the world, great specialists ranging from PR, finance, IT to artists, architects and humanists. They and their friends, we all do something unique. Obviously, we are happy to accept any donation; money is a fuel allowing us to do even more. Therefore, whoever wants to support us, please visit our website passionforfreedom.art
You have become the Polish woman of the year, and now what?
I will work even harder, there is so much to be done. Last year we had over 1000 visitors to the festival, this year we'll have more visitors and more works of art as well. There are so many artists, whose art I would like to bring up to the daylight regardless of how much other galleries are afraid of them. And believe me, we are not afraid – although there are reasons for fear. Good news is that we have started working on a book, an album with works of art created by artists dealing with the issue of freedom and human rights. This is going to be the most beautiful, politically incorrect art album in the world! By the way, reading about freedom of speech in the Western media I recently discovered an official vocabulary list allowed for terrorist attacks media coverage. Ultimately, no one knows who, why and how. Similarly, the world of commercial galleries avoids many artists, which looks like a usual fear to me.
If you could change the world, what would you do?
I would love to see equal rights for all women in Europe. Protection and access to information. In my opinion it is unacceptable, that in the 21st century women are being murdered because according to their families they brought "shame" on them; girls are taken to foreign countries, married to a cousin or a distant uncle; not mentioning female mutilation. I cannot comprehend how some women can be protected by our law, while others are treated as originating from other culture and religion, thus our law does not relate to them. I do not know how they can speak about offending their feelings here… whose feelings?
Where are you going for your holidays?
I have just returned from holidays in Madrid. Next holidays will not come so soon. I would love to hike in the Tatry mountains, I haven't been there for ages. I especially love the western part, given a good weather, they offer incredible views. On the other hand, High Tatry can give you a "thrill" and effortless focus. Sheer pleasure! Moreover, after a day's trek food tastes better in the mountain hostel.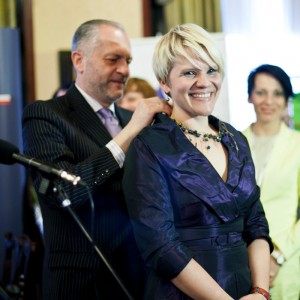 Pict. Polish ambassador in the UK Witold Sobków presents Agnieszka Kołek with a necklace, a Polishwoman of the year award.
Our freedom is being taken away from us step by step. Just like when the National Socialists were gaining power creating the III Reich. Busy with everyday life, work, paying bills we fail to notice that we are being manipulated. Consider the attack on the free press in the Great Britain. After Lord Levenson's report changes are being suggested, which practically abolish freedom of speech in this country. Great Britain is a paradise for various oligarchs and tycoons, who sue newspapers and individuals. Compensations are skyrocketing. Politicians are unwilling, galleries are afraid, journalists are scared. If we do not act, no one will speak in our defence.
Why did you start organizing "Passion for freedom"?
Because of political correctness of politicians, journalists and everyday men. This is why the most vital issues are not being discussed. This is why we created the festival. A group of politically incorrect friends, architects, programmers, teachers and journalists trying to show dysfunctional elements in European democracies. While politicians provide their sweet, weasel words, we show pictures, sculptures and movies which awake and show places, in which freedom is being taken away.
What is the source of such passion for freedom?
Artists are being imprisoned, they are being repressed or even murdered in the name of the offence against religious feelings. Murdered here in Europe, that's shocking isn't it? Artists, and ourselves, stop feeling safe in Europe. Due to Medieval lynches in the name of the sharia law. If you feel insulted you should go to a courtroom! There is no better law than democracy. There are, however, social groups who question this (grins).
If a religion wants to impose their law upon us, we simply need to stop it. Freedom is our natural state, and if we don't protect it, we may lose it due to political correctness. I'm saying "stop!" and invite artists and freedom lovers to the festival – the brave festival, the only one of its kind in the world.
Aren't people afraid?
Maryam Namazie – our Iranian patron – for years has been receiving death threats. We are walking on the edge, but we are still inspired – like being a mountain climber – it's dangerous, but still worth it.
What makes you happy?
Cycling on a sunny day, spending time with friends. I like simple things.
What would you like to see in the future?
Freedom everywhere, especially in the places where it is lacking today. Beyond that, I have no expectations. I have an open heart and act according to whatever happens in front of my nose. Obviously, I would like to see the Passion for Freedom art album next year, with artwork of all the crazy, brave and wise artists. I would like to see Passion for Freedom awards ceremony on TV – I'd love to see the TV channel which is not afraid of showing the festival with incorrect artists.
Thank you for your time.
Thank you. Please do not hesitate to visit London in November. We are only too happy to see all the artists, journalists and lovers of brave and meaningful art, who feel comfortable with the feeling of freedom.