In conversation with Agnieszka Kolek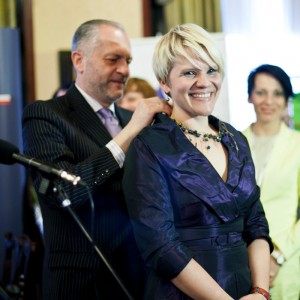 Agnieszka Kolek is a Debut Alumni who has moved on in an amazing directon. Recently she was awarded Polish Woman of the Year in the UK for her great work with Passion for Freedom festival. We talked to her about this exciting fact.
Agnieszka, congratulations on becoming Polish Woman of the Year in the UK!
What will be next for you?
Thank you, it is a great honour and responsibility. I was chosen from a group of very successful and powerful Polish women here in the UK. Currently I am working on 5th edition of Passion for Freedom London Arts Festival. I am in the process of securing two established artists as Special Guests at the festival plus overlooking works on the Freedom Book. As festival works go in a cycle I use quieter time to focus on my own art practice. I have completed a number of works since January and continue to work on few more in preparation for a solo show.
How will you keep on making a difference within the Polish community and beyond?
Becoming Polish Woman of the Year is a great opportunity to inspire women to act. Only during Congress' panel discussions on politics, science and art women were sharing their experiences, discussing achievements and planning for the future. Protecting freedom in our society and promoting it where there is no freedom is the greatest task imaginable. I am committed to make a difference. At the moment I am working along a group of passionate people to create a platform that would motivate, inform and support Polish community in becoming actively involved in voting in local and European elections here in the UK.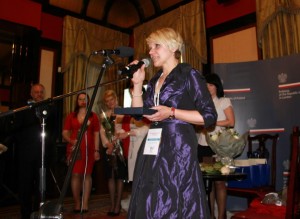 Acceptance speech
Where will Agnieszka Kolek be in five years?
I would love to see Passion for Freedom Festival become a fixed date in an international art calendar; a destination for thought provoking, independent art that makes a difference; a place where people meet and celebrate freedom openly debating current issues. I am dreaming of a solo show of my work touring major cities in the world. I already have a fun club in NY asking me when I will show there. It is a great thought seeing my works there.
How will this title influence your art career?
It already gives me fuel to work more. I can feel how empowering and encouraging it is to be recognized for the work I have been doing for the last four years. What I love about this the most is the effect it had on other people. I have received a numerous offeres of help be it from other professionals eager to join the project or young people wanting to become volunteers during the festival. It is amazing! Freedom bringing people together.
How did you experience your time at Debut Contemporary?
It was an intense experience as I was in the middle of preparations for the festival. I found workshops useful and inspiring. There was not one moment that I thought "I know all of this. I wish I was somewhere else." It was great to meet professionals who work either in the creative sector or closely with artists. The one to one mentoring sessions were very practical with "can do attitude" added. I highly recommend becoming a Debut Artist.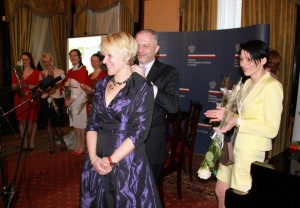 What did you take away from it and how are you still benefiting?
It is hard to pick one particular skill. I can compare the whole experience to receiving a gift; a tool box. I can open it and choose what would work best in the particular moment. It could be related to PR, negotiating with galleries or managing own finances.
Anything else you'd like to share?
I am glad spring finally arrived and I can ride my bike again!
Source: Debut Contemporary