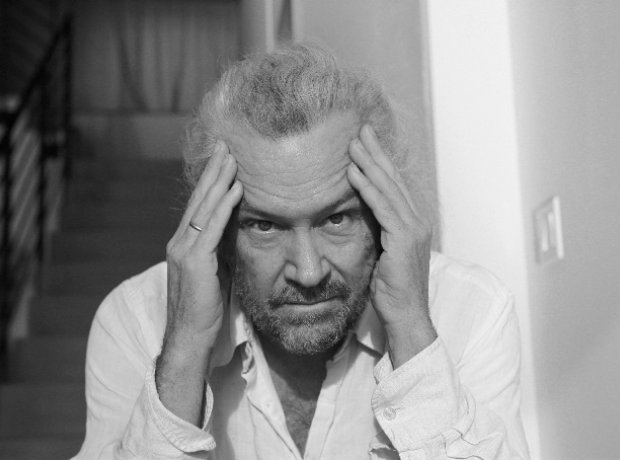 Gary Hill – an American artist lives and works in Seattle, Washington, often viewed as one of the foundational artists in video art, passionate about women and their beauty. Art historian Lynne Cooke summarizes:
"A pioneer in his embrace of the then novel medium of video, Hill distinguished himself through a radical approach that both literally and conceptually deconstructed it. Single channel works were soon followed by installations in which video screens were unhoused, suspended, multiplied, miniaturized, or otherwise manipulated.
On other occasions, video tubes mysteriously projected unframed images in dark fields or from oscillating beacons panning an empty room, text and figure swivelled in anamorphic distortion. No artist of Hill's generation probed this medium with such invasive scrutiny, and none deployed it with such protean irreverence. And when his restless curiosity led him to computer based technologies and virtual space in the early Nineties, few of his peers proved so avid or dedicated in exploiting this uncharted terrain for art making.
Since he rarely deployed technology as a tool in service to an exploration of the visual world, questions of representation have played a relatively minor role in his work: typically, he treats mediums as sites and enablers of languages both verbal and visual. Surveying with hindsight what now amounts to more than three decades of his activity, it's striking how far his path has veered from his peers' and not least because it betrays so few allegiances to histories of representation.

Lee Weinberg (PhD) – Dr Lee Weinberg is an independent curator, researcher and lecturer, specializing in contemporary and digital cultures. Weinberg started her journey as an artist. She acquired her BFA from Central St Martin's College of Art and Design in London and her BAFA in art and French Literature from the University of Haifa. With time, her focused as an artist shifted towards community and audience engagement as she became a gallery educator and  curator at the Haifa Museum of Contemporary Art in Haifa, Israel (2005-2012). Working on independent research and exhibition on Net.Art she was fascinated by the opportunities digital technologies offer in developing new forms of art and curation, and traveled back to the UK to pursue her Mphil and  PhD at Goldsmiths, University of London (2009-2013). Her thesis, in creative curating, focused on the redefinition of curation and art and identifying their new forms in the digital realm. After completing her PhD, Weinberg became interested in the histories of Indian art and she is currently researching and working on curatorial projects between London, Israel and India (since 2014). As a curator Weinberg initiated and was involved in various projects and exhibitions internationally. She is currently working a senior lecturer and researcher at Shenkar College of Engineering Design and Art and as the head of the Curatorial Studies MA programme at the University of Haifa. She also offers intensive academic workshops in the areas of her expertise to academies in art and design internationally.
Andrew Stahl is an artist and Professor of Fine Art at the UCL, Slade School of Fine Art. Andrew Stahl has exhibited frequently in London and the UK and widely internationally across Europe, Asia and America. He has received many awards including the Abbey Scholarship to Rome and the Wingate scholarship for travel in South East Asia. He has also participated in public-funded residencies in Thailand, China, Australia and Sri Lanka. His exhibitions have been frequently discussed in international newspapers and art journals and his works are in many private and public collections both in the UK and abroad including the Arts Council England, the British Council, the Government Art Collection, the British Museum and the Metropolitan Museum of Art, New York.
Mychael Barratt PRE
I was born in Toronto, Canada, however consider myself to be a Londoner since arriving for what was supposed to be a two-week stay thirty years ago. I am a narrative artist whose work is steeped in imagery relating to art history, literature, theatre and everything else that inhabits my overflowing bookshelves. I was an artist in residence for Shakespeare's Globe Theatre throughout Mark Rylance's reign as Artistic Director as well as being a commissioned artist for Liberty of London. In 2011, just prior to the 2012 Summer Olympics, I was commissioned by T. V. Edwards to paint a 10 x 8 metre mural on an external wall of their headquarters on the Mile End Road. I am a Fellow of the Royal Society of Painter-Printmakers and in 2013 was elected their President. I have written three books: Intaglio Printmaking, published by A & C Black; The Master's Muse: Artists' Cats and Dogs, published by Unicorn Publishing; and London Map of Days, published by Unicorn Publishing. My work is held in many important collections including: the British Museum; The Royal Collection of HM The Queen; Ashmolean Museum; V & A Museum; the British Library; Canada House (UK Canadian Embassy); Jiangsu Museum of Contemporary Art, China; Yinchuan Museum, China.
Francisco Laranjo was born in Lamego, Portugal, 1955. Degree in Fine Arts, School of Fine Arts of Porto, 1978. Scholar of the Calouste Gulbenkian Foundation, 1981–83, National Scientific Research Board (Egypt and The Netherlands), and the Goethe-Institut (Germany,2001). He has been a conferencist and guest lecturer at institutions such as the École nationale supérieure des Beaux-Arts (France), Winthrop University (USA), Ottawa University and Alberta College of Art and Design (Canada), Marmara University (Turkey), Sheffield Hallam University (UK), University of São Paulo (Brazil), School of Fine Arts – University of Castilla-LaMancha (Spain), National Academyof Art Sofia (Bulgaria) and Dresden Academy of Fine Arts (Germany), among others. He is a Professor at the School of Fine Arts of the University of Porto. He has done solo and group exhibitions in galleries and museums in Portugal and several continents. Recent solo exhibitions: Infinitum (2015), Cooperativa Árvore, Porto; Light in Suspension (2015), Nagasaki Museum of History and Culture, Nagasaki, Japan; Recent Works (2013), Gallery Feel, Changwon, SouthKorea; Print Works (2013), Galeria do Conservatório Calouste Gulbenkian, Aveiro, Portugal.
He is represented in collections such as the Serralves Foundation – Museum of Contemporary Art, Porto(Portugal), Centre of Modern Art ofthe Calouste Gulbenkian Foundation (Portugal), Art Museum of Porto Alegre (Brasil), Contemporary Art Museum KNU (South Korea), Museum ASP (Poland), Museum Amadeo de Souza Cardoso (Portugal), Collection of the Finance Ministry (Portugal), Portuguese Foundation of Communications(Portugal), Benetton Collection (Spain), Institute of Contemporary Arts Kunsan (South Korea), Museum of Tomar (Portugal), among others.
Prizes and awards (selection): Engineer António de Almeida Award, Porto, 1978; Revelation Award at the1st National Modern Art Exhibition ARUS, National Museum of Soares dos Reis, Porto and the National Fine Arts Society, Lisbon, 1982–83; Medalof Merit (Gold), Porto City Hall, 2009; Medal of Merit (Gold) and Award of Cultural Merit, Lamego City Hall, 2013. He was made Commander ofthe Order of Public Instruction by the President of the Portuguese Republic, 2015. Lives and works in Porto, Portugal.
Miriam Elia is a visual artist and broadcaster hailing from North London. Her diverse work includes  illustrated books, prints, drawings, short films, animations, and surreal radio writing.
She is best known for her art book ' We go to the gallery,' in which she illustrated the classic Peter and Jane ladybird book characters grappling with conceptual art.The book has been published in three countries and sold over 80,000 copies in the UK.
Miriam graduated with a Master's degree from Royal College of Art in 2006 after having completed a BA in graphic design in Brighton. In 2008 she was nominated for a prestigious Sony Award for her debut BBC Radio 4 sketch show 'A Series Of Psychotic Episodes', a surreal comedy series.
She frequently collaborates in writing with brother Ezra Elia, and in 2011 published 'The Diary Of Edward The Hamster'; the story of a philosophical yet deeply troubled Hamster living and contemplating the meaning of life in the solitary confines of his cage.
In 2012 Miriam wrote and starred in her own comedy mini series for Channel 4's Random Acts short film strain 'Survival', which tells the story of 5 different animals living in and handling the circumstances of modern society in contrasting ways. From a bunny claiming benefits and selling 'pure' carrots to get by to a wealthy hipster fox partying her life away in Shoreditch.