"The world is a dangerous place to live; not because of the people who are evil,
but because of the people who don't do anything about it."
Albert Einstein
HEROES risking their life for greater good Celebrated by Passion for Freedom since 2009.

Often involuntarily, independently thinking people become heroes just by exercising their constitutional and human rights. A hero can be anyone; an artist, activist, journalist, cartoonist, or someone who disagrees with the society they have to live in. Be it far away countries or Europe, there are many things to disagree with, there is also a lot of censorship – open or hidden. The later is the worst; it seems there is not one and you won't ever realise that until you start encountering hidden barriers of the limits to the freedom of speech and expression. Our heroes fight or fought in the name of freedom of speech and in some cases paid the highest price for it – their lives. By recognising heroes, Passion for Freedom pays the highest tribute to their courage.
2015 Heroes Nominations
Kubra Khademi, Afghanistan
MIMSY
Atena Farghadani, Iran
Malala, Pakistan
Charlie Hebdo, France
Kubra Khademi, Afghanistan
An Afghan artist has been forced into hiding after receiving death threats for dressing in a metal suit featuring exaggerated breasts and buttocks. Kubra Khademi wore an unusual armour in a performance in the streets of Kabul to highlight the problems of sexual harassment faced by women. She had hoped to make a walk lasting for 10 minutes but in the event was forced back into her car by an angry mob of men after only eight minutes. The men threw things and even children were shouting at her.
"It was a performance. I'm not an activist, I'm an artist," she says. "My concerns in my work derive from my life, from my personal experience … but I don't use words, I use my body and my space in time."
MIMSY
Who would have thought that the small and furry Sylvanian Families would find themselves dragged into the war on terror? Proving that art still has the power to shock, an image mocking Islamic State — in which an idyllic picnic scene is interrupted by "MICE-IS", a group of radicalised jihadi Sylvanians, brandishing rifles, knives and a scooter — has been going quietly viral.
(…)
So the Londoner put in a call to London's home of all things furry, the Sylvanian Storekeepers in Finsbury Park. "We're not terribly comfortable with it, in all honesty," said an employee. "One of the reasons why Sylvanian Families has been so enduring is because it's so innocent — and I don't appreciate it being associated with something that's so far from its core values".
Atena Farghadani, Iran
Atena Farghadani is a prisoner of conscience, sentenced to over 12 years in prison for her peaceful activism. 28-year-old Atena was tried on 19 May on charges including 'spreading propaganda against the system' and 'insulting members of parliament through paintings', according to Amnesty International.
She serves her prison sentence for drawing Iranian leaders as monkeys and cows. None would have thought that Iranian soft-version of Orwell's Animal Farm would have bring such an outcome. For some peaceful activism, for others the highest offence, shows that there is no place for debate, not to mention critique, in Ahmadinejad's Iran.
Malala, Pakistan
Malala Yousafzai became a symbol of hope for millions of girls around the world when she stood up to the Taliban to demand her right to an education.
As a young girl, Malala Yousafzai defied the Taliban in Pakistan and demanded that girls be allowed to receive an education. She was shot in the head by a Taliban gunman in 2012, but survived.
Malala Yousafzai was born on July 12, 1997, in Mingora, Pakistan. As a child, she became an advocate for girls' education, which resulted in the Taliban issuing a death threat against her. On October 9, 2012, a gunman shot Malala when she was traveling home from school. She survived, and has continued to speak out on the importance of education. She was nominated for a Nobel Peace Prize in 2013. In 2014, she was nominated again and won, becoming the youngest person to receive the Nobel Peace Prize.
Charlie Hebdo, France
Charlie Hebdo, satirical weekly French magazine, featuring cartoons, reports, polemics, and jokes, first appeared in 1970. Irreverent and stridently non-conformist in tone, the publication describes itself as above all secular and atheist, far-left-wing, and anti-racist publishing articles about the extreme right (especially the French nationalist National Front party), religion (Catholicism, Islam, Judaism), politics, culture, etc. According to its former editor Stéphane Charbonnier ("Charb"), the magazine's editorial viewpoint reflects "all components of left wing pluralism, and even abstainers".
The magazine was a target of two terrorist attacks in 2011 and 2015. Both presumably as a response to a number of controversial Muhammad cartoons which the magazine featured. In the second of these attacks, 12 people were killed, including Charbonnier and several contributors.
2012
Ai Weiwei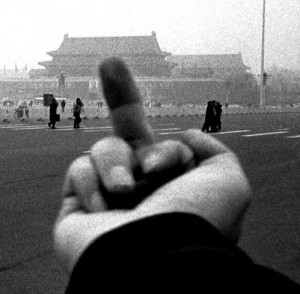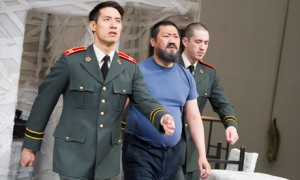 An acclaimed Chinese contemporary artist, active in sculpture, installation, architecture, curating, photography, film, and social, political and cultural criticism. As a political activist, he has been highly and openly critical of the Chinese Government's stance on democracy and human rights.
He has investigated government corruption and cover-ups, in particular the Sichuan schools corruption scandal following the collapse of so-called "tofu-dreg schools" in the 2008 Sichuan earthquake. In 2011, following his arrest at Beijing Capital International Airport on 3 April, he was held for 81 days without any official charges being filed; officials alluded to their allegations of "economic crimes".
AI WEIWEI: NEVER SORRY in Passion For Freedom Promo 2012
2011
Jafar Panahi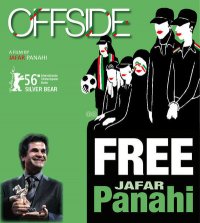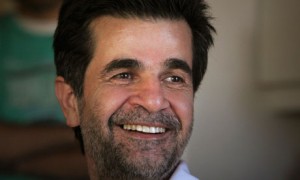 Born in Mianeh in Iran. Despite his house arrest in 2011, and 20-year ban on making films, the Iranian director  he has made two "unauthorized" films: This is Not a Film, a subversive wink at the censors, that chronicles a day in his life as a banned filmmaker, and Closed Curtain, a second filmed diary that delves more deeply into his psyche and boldly blurs the lines between the real and the imaginary. The first was shot in the confined spaces of Panahi's own apartment in Tehran, and the second at his villa on the Caspian coast of Iran.
Renowned for the social nature of his films, Panahi is avowedly apolitical – although the Iranian theocrats may disagree. The Circle, his 2000 offering, was a passionate profile of the plight of women under a militarist Islamist regime. Despite winning five awards at the Venice Biennale that year, including the Golden Lion, the film has been banned in Iran, and its success resulted in Panahi's temporary arrest on his return from Venice. In a bizarre parallel, he was again arrested in 2001 when changing planes in New York, this time by American authorities while promoting the film. Continuing his stellar career, Panahi was awarded a Silver Bear at the Berlinale for Offside (2006), his tale of gender segregation among Iranian football fans in the run-up to the 2006 World Cup.
Panahi – This is Not a Film
2012
Sarah Maple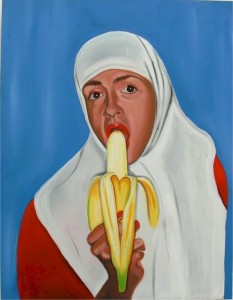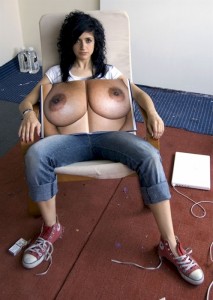 "Meet the heir to Tracey Emin's throne… The best of the new young British artists" The Independent on Sunday
Artist, feminist and activist; Beverley Knowles, curator summarizes: "Sarah Maple's artwork is unfailingly bold and brave, not for the coy or faint of heart. These unflinching, occasionally even controversial, investigations into what it is to be a woman and a Muslim in 21st century Britain are made joyful by her own very personal brand of boisterous, tongue-in-cheek humour.
This is not sensationalism for sensationalism's sake, but rather a heartfelt urge by a twenty-seven-year old artist of great sincerity and talent, for the viewer to look again, and this time with a more questioning eye, at traditionally accepted notions of identity, gender, culture and religion."
2013
Firoozeh Bazrafkan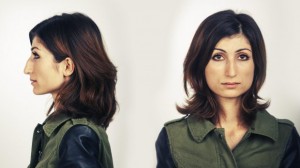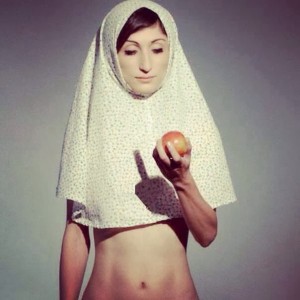 an Iranian born visual and performance artist, lecturer and commentator, who has critically talked about Islam, the Koran and Western feminism. She is also a member of the Free Press Society Board and a vigorous defender of Danish values. Due to her views and art she has received numerous death threats from the immigrant community in Denmark.
In December 2011, she wrote on her blog in Jyllands-Posten, a post in which she argued that women are not treated well in Islam. In January 2012, she was interrogated by Aarhus Police in connection with a possible violation of racism paragraph .She was found guilty under 266b paragraph. On 16 September 2013 she was sentenced to five daily fines of 1,000 kronor or an alternative sentence of five days in jail if she did not pay. She said after the verdict: "This is a matter of principle. I'd rather go to jail than pay the fines."
Firoozeh wrote on her Facebook profile: "I choose five days behind bars. Now it is up to our politicians to take responsibility."
2014
Miriam Elia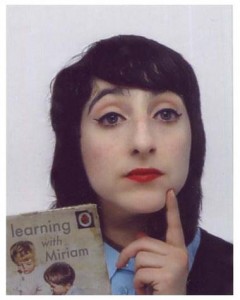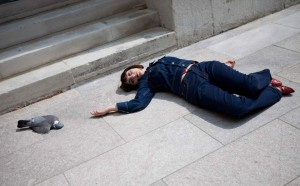 Visual Artist and Sony nominated Comedian. Her diverse work includes illustrated books, art-shows, prints, drawings, short films, radio comedy and animations. She frequently collaborates in writing with her brother Ezra Elia.
Artist's spoof Ladybird book provokes wrath of Penguin. Publisher tells Miriam Elia to stop selling satire in which Peter and Jane grapple with Tracey Emin-style conceptual art. An artist and comedian has been told by the publisher Penguin that her new satirical art book breaches its copyright, and if she continues to sell copies it could use the courts to seize the books and have them pulped.
https://miriamelia.co.uk/art/peter-and-jane-series/
2014
Daniel Arzola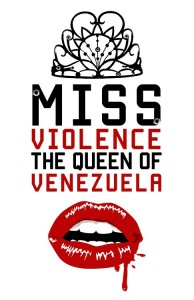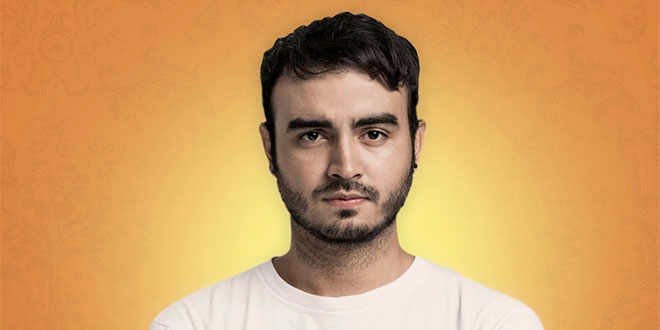 No soy tu chiste ("I'm Not a Joke") For Daniel Arzola, coming out as gay in Turmero, Venezuela, was a nightmare. His adolescent years were marked by psychological and physical violence. "When people in Venezuela perceive that someone is different, their first reaction is to attack that person." It was Daniel's graduation project for his college art studies and consists of a series of posters sending out strong messages against homophobic bullying.
"We are all different, and our expressions are unique. Explore and find yourself that is the main message of my campaign. I come from a very violent context, but I've come to realise that violence is a moral choice; you can decide to return it or not. You have the power of breaking the cycle," says Daniel. With his country hit by deep political, economic and social crisis, Daniel is considering moving to Argentina. His life is in danger in Venezuela. Being a human rights activist in Venezuela equals being a public enemy.